After the SOMBRA leader was caught Jack Archer and you go to america for 1 day off only finding Ashton Cooper dead in the beach near Grimsbourgh.
Victim: Ashton Cooper
Murder Weapon: Razor Blades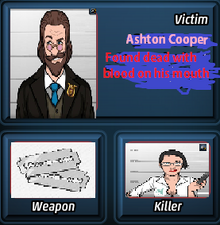 Killer: Ashley Collins
Ashley Killed Ashton Cooper because he stole her Killer Cards that is "Really Rare" and then when Ashton was eating Ice cream Ashley shoved razor blades in to his mouth making Cooper dead.
Ashley was arrested for life time in jail with no chance in parole.
Suspects:
Riley Davies
Sheila MacCarthy
Ashley Collins
Ginger
Zeus (William Lewis)
Sally Stone
Places:
Beach Beach Chair
Apartment Drawer
Garden Garden Chair
Suspect Has:
Riley eats Candy Floss Riley is allergic to pets
Sheila is allergic to pets Sheila has white shirt
Ashley
Action:
Investigate Beach
Victim body: (18:00:00) (Killer Eats Candy Floss) (Candy Floss on Body)
Razor Blade Pack (4:00:00) (Killer Has White Shirt)
Phone: New Suspect: Sally
Broken Car Wheel: (Find Fingerprints)
Fingerprints (6:00:00) new Suspect Ginger
Interrigate: Sally (New Place: Apartment)
Interingate: Ginger (Eats Candy Floss)
Investigate Apartment
Gameboy with undentified liquid on
Undentified Liquid (Sally Eats Candyfloss)
White Clothes (Sally Wears White Clothes)
Flag (New Suspect: Zeus)
Interogate Zeus (has White shirt and Eat Candy floss)