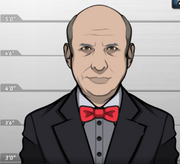 Mayor Howard Johnson was one of the suspects during the investigation of the murder of Martha Price in Good Girls Dont Die and Howard Murderer Adam Bentley in Serial Killer Death. Howard appears as a jailed convict (albeit a suspect) in Lola Vallez in The Death Of Singer (Case #56).Howard Johnson is also murderer Madison Springer in Girls,Girls Death (Case#57).
In Good Girls Dont Die: Howard plays Tennis,
In Serial Killer Death: Howard right-handed, Howard smokes water pipe, Howard wears a VOTE RED badge and Howard wears a memorial poppy.
In The Death Of Singer: Howard takes medication and Howard a baseball fan.
ln Girls,Girls Death: Howard eats oysters and drinks tea.
Case Appearances
Edit